C1 Lithuania visiting Austria
Summary: our discussions, experience and visited places in Vienna could be summarized in several blocks:
- social housing and management of green areas in the neighborhoods;
- walkability plan in Vienna: development and use of the sidewalks and arrangement of alternative public spaces.
- cultural and art experience in Vienna: architecture and design galleries;
- management of cultural spaces (WUK);
Below we provide a field diary on our visit, which consists of three categories: places, practices, inspirations and embraces our day-by-day informal learning experience in Vienna. Inspirations are just unnecessary small impressions during the day, collected from all three of us.

Day 1, Tuesday, February 12, 2019
14.00 – 23.00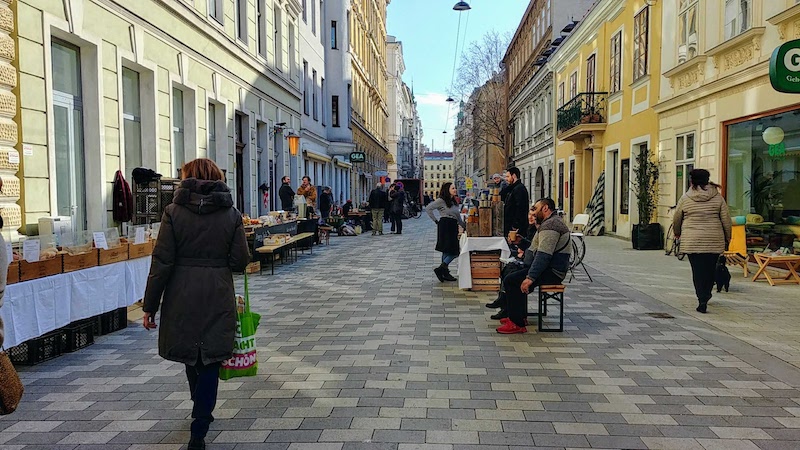 PLACE
Karl Marx Hof (February 12 platz)
- One of the 1st large scale social houses in Vienna (1927-1930). The longest residential building in the world. An outstanding example of urban planning and architecture. Impressive proportions of green space (20 % building / 80% green space)
- what activities are run: a wide range of social and cultural functions: kindergarten, Red Wien museum, use of public places, and green space for annual gatherings.
- what to learn / why it is interesting: sustainable social management: you need to live for 2 years to apply for the social house, must have a job when you apply you get the suggestion within 2 years, the kids of parents who passed away have the right to stay and live in the house. Based on progressive taxes.
Collective gardens by social houses (Karl Marx Hof case)
- Small fenced plots for seasonal gardening and recreation nearby social houses. Arranged in many different ways. Run by the keepers of social housing flats. You need to apply for the plot, the list of applicants is quite long.
- nice idea to have a garden by the house, discussable idea of having an individualistic, fenced plot. Are these plots used collectively in the summertime?
Red Wien Museum
- Artistic posters, small artifacts, architectural models of social houses.
- The history is kept alive through exposition, events, etc.
----------------
Practices:
- Educational activities run by SPO.
- Activities are youth-oriented, political education, rhetoric courses, influencing courses, historical education, debates. Exhibitions.
- Educational activities are free of charge.
- Cooperation with youth organizations. With other organizations, stakeholders: municipality.
- Financial source: municipality (space) + political party
-------------
Inspirations:
- Decorative elements of social houses (mosaics), social realism;
- Pedestrian-friendly urban design, the monthly fee for parking the car in your district – 250 EUR per month – brought difference;
- Use of light shadows/colors for the building make space lighter;
- Small public places with greenery and playful elements, playgrounds;
- Balconies: decoration of the balconies of the social house 🡪 brings unique character;
- Use of roofs and terrains for greenery, for creation of space;
- Gender-diverse road signs (traffic lights);
- Discussions on the culture of silence in Austria and Lithuania;
Use of the façade for the light projections.
Day 2, Wednesday, February 13, 2019
PLACE
- Riverbank by the Danube canal;
- Short characteristics: wide space for pedestrians; shared space between walkers, bicyclists;
- Activities: open for graffiti and street art (started as bottom-up, approved by the municipality); informal locations run by locals; informal spots for rests; several possible sports for the "bench-interventions" run by Viena partners;
- What we can learn: the model of shared space (raises the attention while walking); flood-resistant constructions.
PLACE / PRACTICE
- Danube island festival (told by Marcus);
- Characteristics: biggest open-air festival in Europe; takes place at the end of June; 3 days, 2.5-3.3 mln. visitors; 1500 volunteers; family-friendly;
- Potential: actually working network of 'River cities' festivals (bringing together artists and musicians);
- Arranged by SPO (Socialdemocrat party, Wien), sponsored by media companies;
- Seeks to: promote the attractiveness of the Danube surrounding as a recreational area;
- What can learn from: management model – concerts are free but bring profit through services;
- Danube bench project;
- Arranged: by SPO with famous artists, celebrities, residents;
- The goals of the activity are threefold: community building through overcoming fear of cooperation, education (learning new skills), growing responsibility for the place; developing a modern sign of Vienna (which typically is represented as a city of high culture), developing accessible culture;
- Insight: by inviting celebrities you turn activity with no permission into a visible attractive initiative that people join gladly;
- Insight: for political parties – sharing values through cooperative activities with the residents;
- Learned: include unemployed people with the competencies in the project!
- Could be used: Caritas center in Vilnius;
Exploring "EntreComp learning competences framework;
Together with Avril, we tested the framework of desired competences.
We found that we need to strengthen entrepreneurship competences, like teamwork, financial literacy, getting support strategies, risk management, etc.
Insight: discovered that our change-maker could be a person who knows how to make crowd-sourcing.
It can be adapted for self-monitoring, for structuring further organizations steps
INSPIRATION
- Augarten garden: nice alleys; collective gardens and public grill places; modern concert hall nearby; retirement home; water pool (free for kids under 12),
- Location-based augmented reality mobile game "Ingress", that encourages to go through various spots and locations; individual gaming within a team;
Day 3, Thursday, February 14, 2019
PRACTICES
Interviewing the partners about the learning process in various contexts;
- Run by Avril and partners, on the base of the handbook "The Learning Interview Guide";
- Change: clear understanding of the needs of the organization through self-reflection on the base of the partner's questions;
- Activity can be used for inner communication of the organization as a possibility to gather feedback after the projects.
Roadmap of competences: models for reflecting the learning process;
- Run by Avril on the base of classical models (5R's and others);
- Exercise, describing the experience of the recent days on the base of the proposed models;
- Could be used during workshops, working with the youngsters;
ps. Julius: "Suitable set of questions: What? So What? What Now?"
ps. Aistė: "Managers need to set benchmark goals that are specific and measurable".

INSPIRATIONS
- Walking through the passages in the city center;
- Interactive playground (for Julius);
- Possibility of intensive sharing and discussions within a group (Laimikis);
- Sound of carillion;
- Architectural model of St. Stephen's Cathedral (the levels of tactile explorations: polished roofs, and less explored level of human scale).
Day 4, February 15, Friday
PLACES
Visit to the Mobility bureau (Mobilitatsagentur Wien), GroBe Sperlgasse / Karmelitergasse
- Run by the municipality, wienzufuss.at
- Opened in 2011, it seeks to promote sustainable mobility in the city; there is a number of bureaus like this around Vienna; maps for walking routes with show shops and shoemakers' services;
PRACTICES:
Board games in public places: e.g. memory games;
- Run by the cafe for its visitors;
- Potential: could be used for developing various topics (images used for the cards), teambuilding;
INSPIRATIONS
Albertine Gallery: modernism paintings ("From Monet to Picasso"): "New objectivity" – a movement in Germany art in the 1920's; landscapes of constructed, imaginary places;
- Mumok museum: Ernst Caramello exhibition - on the use of the space (specifically, in the galleries); video installations on games (tennis game; arranging scenography for passers-by who are not aware of new elements in their environment which is being recorded); interactions in the gallery space (two bells and rings);
- Mumok museum: Neoavangarde Positions "Painting with method" (developing colors theory, working with the perception of the colors);
OTHER INSPIRATIONS
- Orangerie: sunbathing
- Collective gym in public places (Hays des Meeres)
- Places for picnics formed by greenery (Andreaspark);
- Ice-skating ring structured as a series of small spaces (Rathaus platz)
- Street performers: opera street musician in the park (Volksgarten park), violin musician (Mariahilfer straße)
- The owner of the cafe at the marketplace (TEWA, Karmelitermarkt), amazingly friendly with the customers, who instructed his waiter seeking perfect relation with the visitors;
Day 5, February 16, Saturday
PLACES
Yppenpl market and open playground;
- Run by local multicultural communities; Impressive street artworks at the playground; Vibrant place for getting the local vibe;
The local market at the street turned into a pedestrian zone in 2017 (Lange-gasse). The friendly local vibe created by open street design and market sellers. However, according to the sellers, a new pavement is pretty much hot in the summer.
Hundertwasser House (Kegelgasse 36-38)
MAK, Museum of Applied Arts
- "Beauty" (S. Staigmeister & J. Walsh), investigation of the beauty;
- Exhibition was mind provoking. It raises the question of beauty as the function of our everyday environment.
- Interactive, yet simple stands engage with an audience about 'what they think beauty is?'
PRACTICES / INSPIRATION
Preservation and use of the authentic furniture and elements at Karlsplatz (Otto Wagner pavilion as the entrance to the subway station).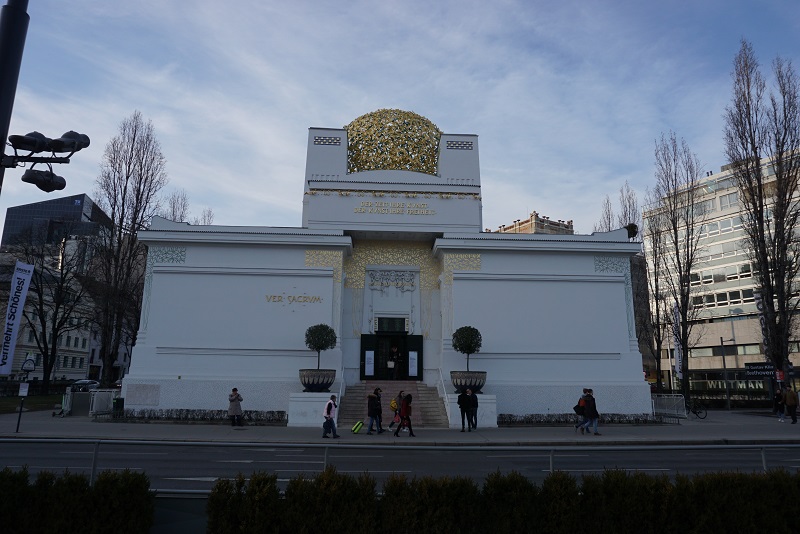 ---
---
C1-Lithuania visiting Austria