News
La Seine Musicale Opening, 22 April 2017, Paris, France
Paris is getting a new concert venue, La Seine Musicale, on an island in the Seine. The concert hall will stage all types of music, from classical to contemporary.
La Seine Musicale will comprise a classical music auditorium (for 1,150 audience), as well as a 6,000-seat pop and rock venue. Among the inaugural events there will be performances of Beethoven, Haydn, Mozart and Berlioz from resident orchestra Insula, as well as Bob Dylan's concert.
The venue is situated on Ile Seguin, the site of a former Renault car factory. Its silver egg-shaped building, recalling the industrial past, has been designed by Japanese architect Shigeru Ban, and his French partner Jean de Gastines. As well as the La Seine Musicale will house not onl concert halls but it will also have exhibition spaces, recording studios, a landscape garden and boutiques.
La Seine Musicale opens officially on 22 April 2017, but the doors for the visitors will be opened already on 18 April.
Visit this site for more information.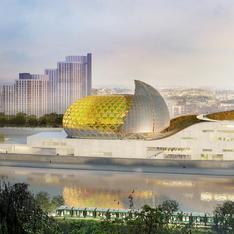 Le projet de Shigeru Ban et Jean de Gastines © DR